I was planning on spending part of today making a few Christmas ornaments. There is currently a 6ft fake tree sitting in my living room. The boyfriends dad gave it to us, and we have yet to decorate it.
Neither of us have any Christmas decorations already.
We went out and bought some lights, and went with the color scheme he wanted which is silver, gold, and red. Not quite what I had in mind, but it will be pretty.
(I had wanted something crazy like lime green and purple... or electric blue and orange).
I've been to 5 stores now in search of plain, clear, glass ornaments that I can decorate myself to help make our tree a little more personal. I haven't been able to find any. Probably due to how late in the season we went looking. Everyone else already has their whole house decked out, so we had to pick over the leftovers. Boo.
My original plan was to use this morning to craft and take photos, and post them all here. I suppose since I can't do that, the next best thing will be hunting down other bloggers DIY's to give you.
Here's a short list i've come across.
Fancy House Road
put together some instructions for using paint to make your own personalized colors! Basically, pour some paint inside and twirl it around til the whole ornament is coated.
Simple, and you can create some great custom colors!
No directions here, but
Country Living
provides this photo to spark ideas.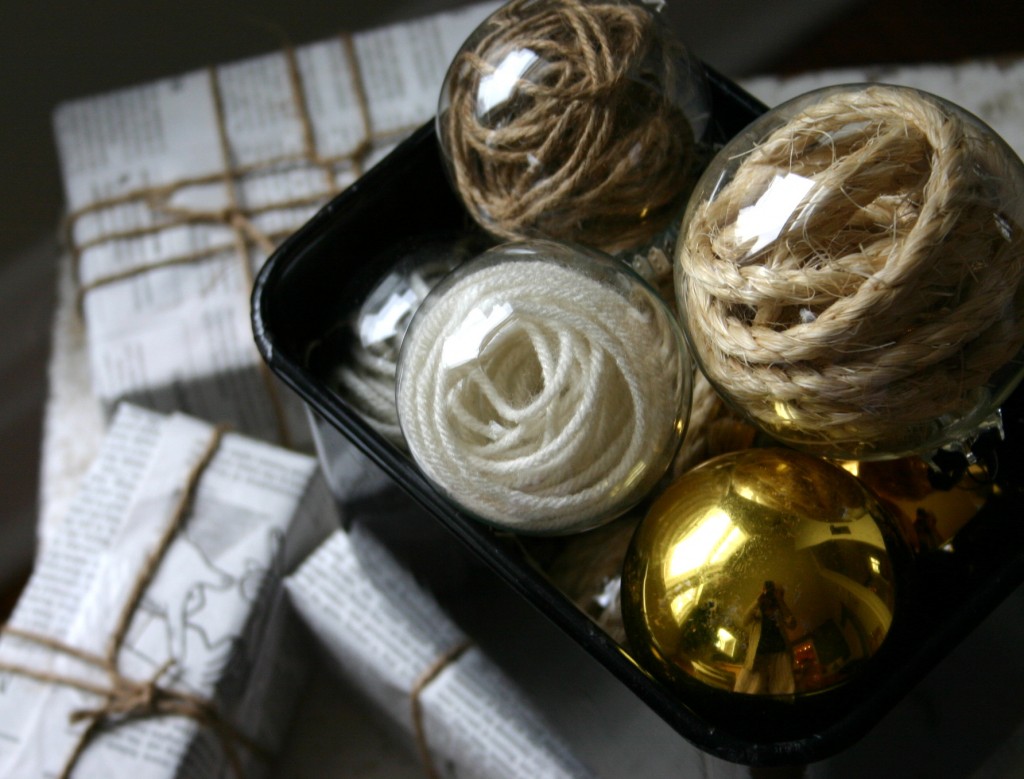 Family Chic
has the idea to fill bulbs up with yarn or twine. You can use almost anything here including ribbons or paper clippings. Your favorite poem written out and cut into slices? I often come across fantastic colored yarn, but since I don't knit, I have no use for buying it. I may think twice now and set some aside for this project next year.
I came across this photo on Pinterest. It links back to the
Freepeople blog
, but doesn't give a specific post. Add some embellishments like fake flowers from the scrapbooking section of your craft store. (or cut the stems off the larger floral flowers). It looks like they added a tiny but of glitter to spruce them up.
Feathers?! What a fantastic idea that's in style right now.
Cook Love Craft
has a set of instructions on their blog. This almost makes me want to go out and buy a tabletop mini white tree to do! Simple, yet very chic.